If you have ever gone shopping for a bath mat, then you know how confusing it is to determine which material is the most suitable for your bathroom. There are several factors that should be considered when choosing the best bath mat material.
The absorbency of the material, for instance, is a critical factor because it determines how well the mat can absorb water or moisture.
Its ability to dry fast is also very important as this helps to prevent the growth of mold and bacteria on the bath mat.
Besides these two features, others that should be considered include durability, softness, ease of maintenance, and nonslip among other factors that we shall look at in this article.
What is the Best bath mat material?
Bath mats can be made from any material but the most common ones are memory foam, microfiber, cotton, bamboo, natural rubber, and vinyl.
1. Memory foam
Memory foam is a dense material that is highly praised for the good padding it provides.
Bath mats made from this material tend to provide a soft and thick cushion for the feet, which helps to relieve pressure and fatigue to the user.
Memory foam bathroom mats are also very absorbent and dry quickly, which keeps the bathroom clean and free from the growth of bacteria and mold.
However, if you soak them in water especially during washing, they may take longer to dry.
An example of a good memory foam bath mat is this Buganda Memory Foam Soft Bath Mat. It has a rubber backing that is waterproof and it prevents slipping on the floor.
This mat also absorbs water very fast and dries quickly. In addition, it can be used not only in the bathroom but also in the kitchen, hallway, balcony, and bedroom.
Moreover, it is one of the few memory foam mats that are machine-washable. This must however be done using cold water and a mild detergent. Most importantly, it does not fade even after prolonged use.
---
See also: How to wash memory foam bath mat
---
2. Microfiber
Microfiber is a synthetic polyester-nylon blend fabric.
Bathroom mats that are made from microfiber tend to be super absorbent. So they can take in a lot of water and moisture; hence, keeping your bathroom floor dry.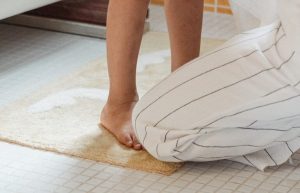 Moreover, microfiber has electrostatic properties that allow the mats to have a high-dust attracting power.
Unlike memory foam mats, microfiber mats are machine washable. However, they should only be washed with regular laundry detergent.
Oily and soap-based detergents and fabric softeners should be avoided because they can easily damage the material by clogging up the fibers and reducing the absorbency.
On the downside, since microfiber bath mats are super absorbent, they tend to hold a lot of moisture, which can be a breeding ground for bacteria and mold.
It is therefore important to wash them regularly and ensure they are completely dry before use.
Looking for a unique set of microfiber bath mats? See this ultra-soft bathroom rug mat by Color and Geometry store.
---
See also: Reasons your reglazed tub peeling
---
3. Cotton
Cotton material is durable so even after repeated use, the fabric will not deteriorate.
Bath mats that are made from cotton tend to feel more like a regular towel. For this reason, they are easy to clean since you can use a washing machine.
Also, cotton mats tend to be very absorbent but dry fast. This helps to prevent the growth of mold and bacteria.
However, pure cotton bath mats are not easy to find but these Lavish Home Store mats are 100% cotton. They can be in a 2 piece set and they are reversible, very absorbent, soft, and machine washable.
---
See also: Best bath mat for refinished tub
---
4. Bamboo
I'm sure you have heard quite a number of benefits regarding bamboo shower mats.
They tend to stand out due to the fact that they are made of wood unlike the memory foam, cotton, and microfiber bath mats. For this reason, they add to the style and aesthetics of your bathroom.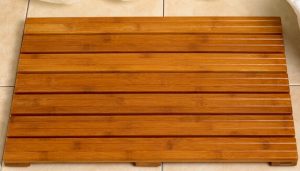 Bamboo shower mats are also safer and more comfortable than other materials because they do not slip on the floor. Some have a non-stick backing to ensure they grip firmly on the floor.
Moreover, they are fast drying since they do not absorb water. This means that mold, bacteria, and mildew will not grow on them.
Another benefit is that they are longer lasting than conventional fabric bath mats. This is attributed to the fact that they do need to be washed often or machine washed. So, they do not fade or tear even after prolonged use.
---
See also: Are wooden panels suitable for the bathroom?
---
5. Vinyl (PVC) material
Vinyl or PVC bath mats are the most common probably because they are affordable.
Vinyl and PVC bath mats do not absorb water, so they are fast drying. They are also very easy to clean since all you need to do is rinse them off after use and let them air dry.
However, one of the downsides of vinyl or PVC mats is that most contain chemical compounds that are known to be toxic and pose a health risk to humans.
Luckily, over the years some manufacturers have resulted in producing safe vinyl and PVC bath mats. For instance, the Gorilla Grip Original bath mat does not contain toxic substances like BPA, Phthalate, and latex. It is also treated to be antibacterial and mildew resistant.
6. Natural rubber
If you have children or older people in the house, consider buying a natural rubber mat.
Bath mats made from 100% natural rubber are free of toxic chemicals like phthalate, chlorine, latex, BPA, and PVC.
They are also designed to protect the users from slips and falls using the textured non-slip backing. Others have strong suction cups that grip firmly to the bathtub surface.
Moreover, rubber bath mats are easy to clean and are machine washable.
They absorb less water but in order to prevent mildew, it is advisable to rinse off the mats under running water after use and air dry. They also dry quite fast.
---
See also: How to remove stains from rubber bath mats
---
7. Silicone
Bath mats that are made from 100% silicone are not very popular.
The good thing about them is that they are more durable; hence, they last longer than other types of mats.
They have a soft texture compared to PVC or vinyl and they are very comfortable to step on.
In addition, silicone is mold, mildew, and bacteria resistant so they do not need any chemical treatment.
In order to prevent slipping, these bath mats have suction cups on the underside while the upper side is textured.
In addition, the silicone mats are easy to clean, they are machine washable and dry very fast.
Qualities of the best bath mat material
1. High water absorbency
The absorbency of a bath mat is very important because it helps to soak up all the water from your feet after you get out of the tub or shower.
This helps to prevent injuries that may occur as a result of slipping on the floor due to wet feet.
Thus, it is crucial to choose the most absorbent bath mat material. From the list of materials we have discussed above, memory foam bath mats are the most absorbent.
2. Quick-drying
After absorbing water, your bath mat should dry fast so as not to become a breeding ground for mold, mildew, and bacteria.
Memory foam mats tend to absorb a lot of water; hence, they take longer to dry compared to microfiber and cotton.
Rubber, vinyl, and PVC on the other hand are fast-drying since they do not absorb water. They simply need rinsing under running water after use and air drying.
3. Easy to clean
It's recommended to wash your bath mat regularly to prevent bad smells and bacterial infections.
So it is good to check out if a bath mat requires a unique cleaning method.
Some mat needs much of your time to clean and can be quite expensive to maintain. Always go for a material that you can wash in the washing machine without any challenge.
---
See also: How to clean a reglazed bathtub the right way
---
4. Non-slip bath mats
A good bath mat should be non-slip in order to provide a safe and comfortable bathing experience.
Nonslip mats are designed with extra traction or backing on the bottom of the mat. This makes it easy for you to get out of the tub without slipping or sliding.
If your bath mat is non-slip, you might need to purchase another one or get an extra nonslip pad to go underneath the bath mat.
5. They should be soft to touch
Bath mats should be soft and comfortable for the feet. When you come of out the shower or tub, you want to step on a plush surface that doesn't cause any pain or discomfort whatsoever.
However, make sure it is sturdy and doesn't fold up under your seat as this can cause tripping.
6. Mold, mildew, and bacteria resistant
A bath mat should be fast-drying to prevent the growth of mold and mildew.
Rubber bath mats for instance trap moisture easily but take time to dry. This might cause mold to grow so this type of mat may not work best in bathrooms with poor ventilation.
Foam offers more cushioning than rubber because it isn't as dense but also traps some water and dries quickly. This makes sure bacteria don't grow on its surface.
---
See also: Can FRP be used in shower walls?
---
So, which is the best bath mat material?
There are many different mats on the market which can be confusing when it comes time to buy one.
The best bath mat material should have high absorbency, easy to clean, durable, quick to dry, and comfortable to use.
It is also important that the bath mat comes in different colors so that you can choose the one that matches your bathroom style.
---
See also: Best bathtub nonslip stickers
---
Conclusion
When looking for the best bath mat material, it can be hard to find the perfect one. If you want something soft and absorbent but also light in weight, consider using cotton or fleece.
For those who prefer more cushioning and traction, memory foam and rubber are your best options. They come in many different styles including nonslip mats that are great for slippery tubs or showers.
There are other features to look out for like soft to touch, easy to maintain, durable, and nonslip. But most importantly, make sure your mat has high absorbency and is fast drying to avoid the growth of mold and bacteria, and bad smells.